22.09.23 –
Stäubli International
Hangzhou expansion: Stäubli opens new industrial park
Stäubli, a global leader in industrial and mechatronic solutions, officially inaugurated the Yinhai R&D and intelligent manufacturing base only a few minutes away from its existing production site in Hangzhou, China. The substantial extension to its Chinese main base marks a milestone on the company`s growth path in the region.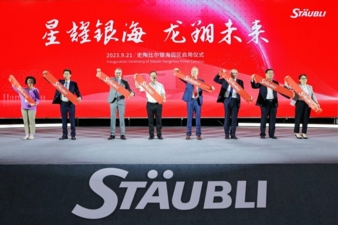 Stäubli has inaugurated new facilities covering 25,000 sqm in Hangzhou, China, marking a significant step in the development of its Asian operations. The expansion focuses on localizing production, including the scaling up of PV connectors and industrial robots. Additionally, it enhances the company`s research and development capabilities to better serve Chinese and Asian customers. Stäubli`s investment covers all four industrial divisions: Electrical Connectors, Fluid Connectors, Robotics, and Textile, with intelligent manufacturing systems improving operational efficiency.
The extension aligns with the company`s sustainable growth strategy and underlines the importance of China as a key market. Gerald Vogt, CEO at Stäubli Group, stated: "At Stäubli Group, we recognize the immense potential that China holds for us (...)." The site promotes innovation and sustainability, emphasizing solar power and energy-efficient building technologies. As part of the objective to achieve carbon neutrality in the park`s operations in the long term, a rooftop installation of solar panels currently meets 15% of the yearly electricity consumption of Yinhai Industrial Park. This is all part of Stäubli`s overall plans to achieve a significant sustainable growth, in which Hangzhou is meant to play a key role.