22.09.17 –
Lenzing - EcoVero fibers
Lenzing´s next milestone
Lenzing´s latest eco-friendly viscose setting the new industry wide benchmark in the sustainability of viscose fibers.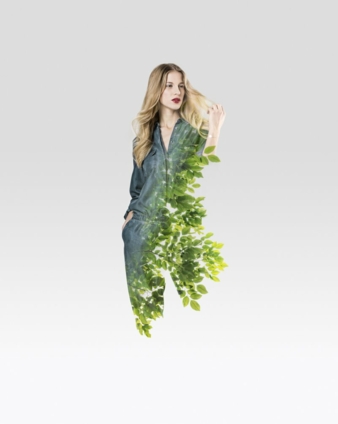 The environmental awareness of consumers has been growing steadily over the last decade, more recently in the fashion and textile industry. Textile consumption is expected to double by 2025, and the industry is anxiously looking for more sustainable solutions with minimal eco-footprint. Achieving low environmental impact requires developing eco-friendly raw materials and a sustainable manufacturing process.
Lenzing addresses this unmet market need for more sustainable viscose by launching Eco Vero fibers that set a new industry standard in sustainable viscose based on three pillars: the use of sustainable wood sources (FSC or PEFC certified), an ecological production process (significantly lower emissions and water impact than conventional viscose), and full supply chain transparency by identifying Eco Vero fibers in the final product.
Eco Vero fibers – use of sustainable wood sources
Eco Vero fibers are made from wood, a natural and renewable raw material. The wood comes from sustainable forestry plantations that are certified by industry-leading associations such as FSC. Lenzing has a comprehensive wood sourcing policy that goes above and beyond the call of duty to ensure that the most sustainable wood sources are used for viscose production.
Eco Vero fibers – significantly lower emissions and water impact than conventional viscose
Lenzing enforces strict environmental standards during viscose production and has invested millions over the years to achieve eco-friendly production process. For example, Lenzing's viscose production sites where Eco Vero fibers are produced comply with the stringent guidelines of the EU Eco Label, a world-leading environmental manufacturing standard.
The EU Eco Label is a sign of environmental excellence and is awarded to products and services meeting high environmental standards throughout their lifecycles: from raw material extraction to production, distribution and disposal. In addition, the flagship viscose production in Austria uses a significant amount of renewable bio-energy in the manufacturing process.
EcoVero fibers – full supply chain transparency
With EcoVero fibers, Lenzing launches one of the most environmentally friendly viscose fibers. A special manufacturing system enables us to identify EcoVero fibers in the final product, long after the textile processing and conversion steps. Thus, retailers and brands are fully assured that they are indeed incorporating the eco-friendly viscose, and not a generic market viscose. "With this special identification technology for Eco Vero fibers, we are supporting the trend in the fashion industry towards greater transparency. It is becoming increasingly important to know where the products come from and which path they have covered," Robert van de Kerkhof, Chief Commercial Officer, explains.
For Gina Tricot, a Scandinavian retailer, Lenzing EcoVero fibers are the solution for viscose fibers. "With the viscose fiber EcoVero from Lenzing, we can offer our customers an eco-friendly solution for the viscose segment. We appreciate the high standard in Lenzing's eco-friendly fiber production. Also, supply chain transparency is getting to be for us more and more important as customers want to know which kind of material is used for their garments. With the new identification technology from Lenzing, which is used in EcoVero™ fibers, we have full supply chain transparency. Our consumers can be sure that they are buying eco-responsible viscose garments", says Brand Director Anna Appelqvist.
Following yarn and fabric producers offering Lenzing EcoVero fibers
Yarn manufacturers
Jiangsu Dasheng Group Co. Ltd, China
Dezhou Huayuan Eco-Technology Co. Ltd, China
Botou Jinglun Textile Co. Ltd, China
Huafu Top Dyed Melange Yarn Co. Ltd, China
Karsu Textile™, Turkey
Inovafil - Fiação S.A., Portugal
Linz Textil Ges.m.b.H., Austria
Riopele - Têxteis, S.A., Portugal
Textil Santanderina S.A., Spain
Fabric producers
Tatfung Textile Co. Ltd , China
Barutçu Tekstil San. ve Tic. A.?., Turkey