01.03.23 –
TGSD fighting quake aftermath: 350,000 apparel & textile workers live in the region
Mitigating misery – limiting economic damage
A pilot area of 22,000 m² has been allocated to the Turkish Garment Manufacturing Association in Adıyaman near the industrial zone – one of the strongholds for both apparel and textile production.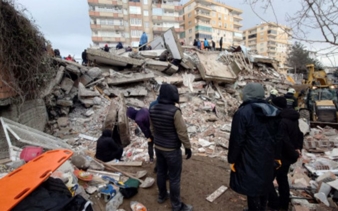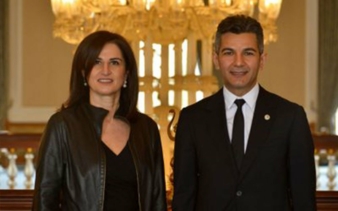 Here TGSD started to establish an accommodation & healthcare center including kindergarten for more than 1,500 people. "We will be supporting this region by donating containers, and help establish to decrease the social impact by creating a functional environment", says an accompanying statement. This project and the required donations will serve the ultimate goal to keep providing employment in the region for women as well as men, and start manufacturing again in full capacity.
Eleven district cities in the South East of Turkey, namely Kahramanmaraş, Malatya, Hatay, Gaziantep, Adıyaman, Osmaniye, Kilis, Şanlıurfa, Adana, Diyarbakır and Elazığ, were affected enormously by the major earthquakes and their aftershocks. 
The main employers in that region are manufacturing, textile, apparel, steel, cement and agriculture in 36 industrial zones – all of them affected by the earthquakes.
How essential the initiative now launched by the TGSD and thus the joint Turkish clothing manufacturers is, in humanitarian as well as economic terms, is shown by the following key data: 1,616 garment and 1,290 textile companies operate in the eleven provinces. The regional apparel sector employs almost 150,000 workers whereas additionally nearly 200,000 people work in the textile industry. That makes roughly 35 % of Turkiye's workers in the apparel and textile industries, living in the region. 45 % of the Turkish production capacity for apparel and textiles s located in the region.
In 2022 the apparel export from the region was 565 m dollars, making up 2.6 % of total apparel exports. The textile export, on the other hand, was 3.4 b dollars generating 30 % of the total Turkish textile export last year. There are garment factories in Malatya, Elazığ, Şanlıurfa and Adıyaman and textile mills in Kahramanmaraş and Gaziantep. The impact on other factories located in Malatya, Elazığ, Şanlıurfa Kahramanmaraş and Adıyaman are minor.
Sanem Dikmen und Ramazan Kayan, co-chairs to the Turkish Garment Manufacturing Association, share in an open letter to the international apparel community, dated February 20: Infrastructure-wise, the government has started – even though partly – to supply water, electricity and natural gas to some cities, towns, and industrial zones; airports are in operation. "Infrastructure systems in industrial zones are mostly in good condition. The factories are usually in industrial zones with single-store buildings. Therefore, the devastating effect of earthquakes is less on production plants than it is on residential buildings. However, short-term production cuts are inevitable, further informs the TGSD management: All stakeholders are working together to restart plants for social as well as economical reasons".
The TGSD Management further informs: "Manufacturing has already started in some factories in Malatya, Elazığ and Şanlıurfa. In the short-run, the Turkish textile and garment industries will use their excess production capacity built in 2021 and 2022." For instance, Türkiye had increased yarn and fabric production capacity by 25 % last year with new investments. Therefore, the lost capacity could be immediately replaced by the available capacity in other major cities like Bursa, Istanbul, Tekirdağ and Denizli located in the West.
Opportunty to aid efficiently: Plea for donations
Having a house and a place to work will definitely help improve the living standards and normalization process at the region. In addition to shelter requirements there is ongoing demand for winter tents, field beds/sleeping bags, heaters, WCs, outer wear/underwear, initial utensils.
The TGSD project at Adiyam will be for 340 containers, each of them for accommodation of four individuals. "Cooking will be organized outside, in proper kitchen and cafeteria areas", Sanem Dikmen informs us further in a one-to-one: "We will be sharing the progress of our project with all contributors in a timely manner."
TGSD has created logistical pre-requisites for donations. Please klick here to get more information about donating.