14.09.16 –
Lectra
Hello future!
Lectra's cutting room technology to be featured in Under Armour's new manufacturing and design center.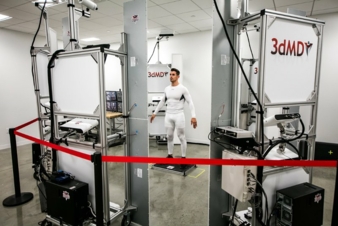 The US-based global performance brand Under Armour has chosen Lectra as an official partner for its manufacturing and design center, the UA Lighthouse, which opened on June 28 in Baltimore, Maryland. The new facility will showcase the latest technology and serve as an incubator for creating state-of-the-art product with efficient manufacturing methods.
Under Armour, the originator of performance footwear, apparel and equipment, revolutionized how athletes across the world dress. Designed to make all athletes better, the brand's innovative apparel and footwear products are sold worldwide to athletes at all levels.The 35,000 square-foot UA Lighthouse will provide a collaborative space for designers and manufacturers to learn and develop new and innovative methods for making and delivering product, which can then be shared with global teammates and partner factories.
A proud partner
A proud partner of the Lighthouse project, Lectra shares Under Armour's commitment to helping manufacturers and brands attain operational excellence and deliver better products to market faster. The Lighthouse will employ Lectra's advanced cutting-room solutions, in particular, the Brio fabric spreader and the Vector fabric-cutting machine. Vector is empowered by Lectra's innovative Smart Services, which provides enhanced visibility to the production processes through remote monitoring. This predictive technology optimizes machine up-time and production.
"This partnership is the start of what we hope will be a long and fruitful relationship between two like-minded global companies. Our technology is very much in line with where Under Armour wants to take manufacturing. As a company that also strives to push the boundaries of innovation, we applaud the leadership Under Armour has shown and we are honored to be involved in the launch of such an ambitious project," says Jason Adams, President, Lectra North America.
The UA Lighthouse
The UA Lighthouse will provide Under Armour's designers, developers and external partners the physical space and tools to create, to build, and to push the boundaries of what is possible in their shared mission to make great product for athletes around the world. Proven processes and technologies created at UA Lighthouse will then be shared with Under Armour's global teammates and partner factories.
Employees and partners will have access to cutting-edge technology including:
3D Design and Body Scanning: Allows for the design of custom footwear and apparel while reducing waste in the development process and providing better service for Under Armour's growing roster of athletes.3D Printing and Rapid Prototyping: Where ideas are turned into tangible products, this hard good model shop has a state-of-the art 5-axis simultaneous machining center as well as a suite of fabrication tools.Apparel and Footwear Prototyping: Where designers and developers come to ideate, test, and refine products and processes with concepts brought to life in new ways beyond the traditional cut-and-make methods.Apparel and Footwear Pilot Lines: Proving ground for process and evaluating how concepts will perform in a full-scale production environment.
Under Armour has partnered with industry-leading organizations including The University of Maryland's Engineering Department, The Dow Chemical Company, Huntsman, Lectra, Bemis, Epson, Desma, and 3dMD, among others. These partners and others will team up with Under Armour to drive innovation in product and process technology.
This innovation will also serve as a foundation for Under Armour's local-for-local vision, where product is to be designed for and made in local markets around the world. UA Lighthouse will be the hub where new product and process technology is developed and then transferred to factory partners to scale.
"Under Armour's approach to open innovation and collaboration can be seen in our strategic partnerships brought to life within the UA Lighthouse," said Kevin Haley, President, Product and Innovation, Under Armour. "We are excited about this game-changing opportunity and the endless possibilities created by bringing together our talented team and our world-class partners, to pioneer the future of design and manufacturing."