30.11.22 –
Biobased fabrics
TômTex makes materials from food waste
The innovative materials science company TômTex offers a 100% bio-based material, created from food waste with two key ingredients: seashells or mushrooms.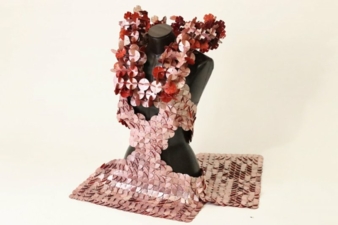 It is colored using natural pigments such as charcoal and ochre (natural clay pigment) and is produced without the tanning process or backing fabric. Uncoated TômTex products can be disassembled and fed back into TômTex production or at the end of life it is fully biodegradable in a natural environment. Through its proprietary process, TômTex has extreme aesthetic versatility that emphasizes flexibility around recipes to manipulate everything from color to strength, to texture.
Chitosan is extracted from a biopolymer called chitin that is responsibly sourced from suppliers in Vietnam. Chitin is the second most common biopolymer in nature after cellulose and comes from sources such as the cell walls of mushrooms or the exoskeleton of shellfish. TômTex not only uses various wastes as raw material inputs, but production also consumes significantly less water, energy, and land use compared to the standard production of synthetic or animal leather.
Founded in 2020, with operations based in Brooklyn, NY, TômTex is led by Founder & CEO Uyen Tran, Co-Founder & COO Atom Nguyen, and Co-Founder & CSO Ross McBee. Coming off of its recent SS'23 collaboration with Peter Do, TômTex's team of designers, scientists, and businesspeople look to increase its work across industry boundaries to provide a bio-based, nonwoven fabric that leaves a positive impact on the planet.