10.02.17 –
Munich Fabric Start
ITV Denim innovation in the Catalyzer Bluzeone area
ITV Denim presented a special selection of the most innovative concepts and with "Glow in the dark" an extraordinary Capsule Collection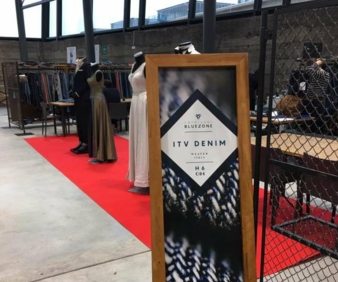 "Glow in the dark" won the Global Denim Award 2016, produced with the talented designer Anbasja Blanken. ITV Denim showcased this extraordinary Capsule Collectionin the avantgarde area Keyhouse.
Light, bright and multicolored, the new ITV Denim collection designed for SS 2018 interprets the new season exploring different worlds, continuously reinventing denim,
starting form its tradition. A collection where lighter weigh and brighter colors take inspiration from working class denim as well as from the luxury and haute-couture world. Contemporary interpretations of the classics that leads to creations extending the world of denim up to reaching the exquisite weaves of natural fibers and those dedicated to high quality tailoring. The ITV Denim product ranges are being continuously reinvented to express all the innovation capable of making fashion style great through change.
Innovation is still at its top with the special selection of SS 2018
Continuous research on materials and processes is rooted in the ITV Denim DNA and comes alive with the new line "Stretch-No-Stretch". Thanks to an exclusive weaving technique, an ITV Denim patented system, a product takes shape that adapts itself to body shapes and movements in an absolutely natural way, resulting in a pure cotton fabric that does not contain elastomers. A technology that also guarantees flawless washing, reducing consumptions and production costs.
Pure denim, rediscovering its origins
The line "Working Hero" explores the real denim heritage drawing inspiration from working-class fabrics, like the ones used by American miners in the early years of the twentieth century and by steelworkers in the Sixties and Seventies. The outcome is pure denim, with intense and clear shades effects that meet vintage, with a very specific sulfur dyeing process for a unique raw effect.
Where denim meets haute-couture
In the ITV Denim SS 2018 collection there is also room for a denim version dedicated to luxury and haute couture. The line "Luxurxblend" presents the project "Gala Denim" where cotton is mixed with silver and other precious materials, creating a perfect harmony for a fabric with a shiny and refined allure, designed for high fashion, that reinvents denim and literally shines new light on it, with its amazing suits and gowns, tuxedos and brand-new interpretation of luxury.